Walkthrough City
Vice City GTA hidden packages 51-65
Packages 1-17
Packages 18-34
Packages 35-50
Packages 51-65
Packages 66-81
Packages 82-100
Cheat codes
Cheat codes PS2
Downtown Vice City hidden package locations
51. Behind the building on the water front over looking Prawn Island, in small inset area .
52. Under the heliport on roof of VCN building.
53. In the statue at the V.A.J Finance building.
54. Through alley by Hyman Condo behind mars cafe.
55. In ambulance parking area Vice City downtown hospital.
56. Behind the Vicy City stadium in parking lot.
---
Little Haiti hidden package locations GTA
57. In building east of police station go up stairs from street
and enter building in the back. Behind desk in office.
58. Behind Moist Palms hotel, behind concrete ramp marked Hot Steam.
59. On dock behind Phil's place behind corner dock pole.
60. In shed at Phil's place.
61. Behind EL NUEVO SIGLO SUPERMART down basement stairs.
62. Behind Kaufman Kabs up apartment stairs in back.
63. On roof top east of Little Haiti Lifes a Beach billboard.
64. Next to pizza place behind funeral home by grave.
65. On roof top in the middle of a bunch of air conditioners.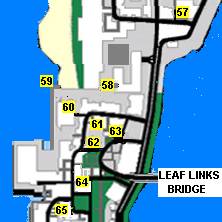 ---