Walkthrough City
Vice City GTA hidden packages 18-34
Packages 1-17
Packages 18-34
Packages 35-50
Packages 51-65
Packages 66-81
Packages 82-100
Cheat codes
Cheat codes PS2
18. Under bridge to Starfish island.
19. On end of red roof top construction beam on building site.
20. Behind SpandEX building in small alley.
21. On wooden boat dock facing Leaf Links.
22. Near roof top pool across from the Malibu Club.
23. In the corner of the Vice Point Malibu Club parking lot.
24. Near roof top pool in building just north from the Malibu Club.
25. Behind WK CHARIOT HOTEL in corner by pool.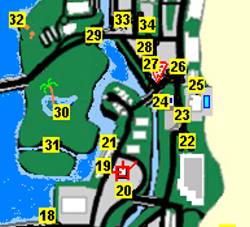 ---
26. East of Vice Point Pizza shop behind apartment stairs.
27. In the Vice Point Pizza shop.
28. In jewelry shop behind counter.
29. Under the bridge connecting Leaf Links to Vice Point.
30. In water hazard by palm tree.
31. On wooden bridge connecting 2 Leaf Links islands.
32. In sand trap bunker on the golf course.
33. Around in back of Mercedes place with the heliport.
34. East of Mercedes place up the apartment stairs on second roof top.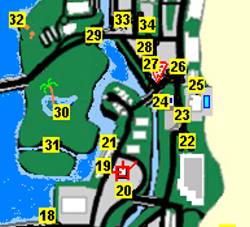 ---