Walkthrough City Hidden Packages
Vice City GTA hidden packages 35-50
Packages 1-17
Packages 18-34
Packages 35-50
Packages 51-65
Packages 66-81
Packages 82-100
Cheat codes
Cheat codes PS2
35. Behind a wooden fence in the backyard of building south of house with pool cabana.
36. By the last tee on Golf course driving range.
37. By hedges in u-turn by large building with pool high dive.
38. On the top of the pool high dive.
39. On the beach behind a sign on the RC car race track.
40. Under bridge leading to Prawn Island movie studio by the water way sidewalk.
41. On water side alley in small dead end.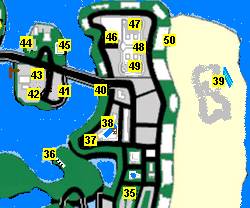 ---
42. On roof top in film studio.
43. In the studio C sound stage building.
44. On the porch of the west house north of the studio.
45. East house north of studio inside go to second floor look behind broken wall.
46. To the right just inside the Vice City Mall parking lot.
47. Outside North Point Mall between north entrances.
48. In front of door second floor store with Sale signs in windows.
49. Inside second floor of Gash store behind tables.
50. Behind the building east of the North Point Mall.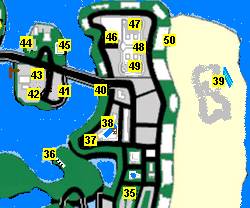 ---