Grand Theft Auto Vice City Walkthrough Guide
Easily find all 100 secret hidden packages on city map.
Beat GTA with or without cheats.Do missions with hunter helicopter.

Hidden packages Packages 1-17 Packages 18-34 Packages 35-50 Packages 51-65 Packages 66-81 Packages 82-100

Cheat codes and Guides Cheat codes PS2 Vice City Stores

Vice City Picture Galleries Vehicle Picture Gallery Vice City Secrets

Complete PS2 Vice City Walkthrough Vice City Walkthrough





Items unlocked after finding hidden packages:

Body Armor appears at Hideouts	      find 10 Hidden Packages
Chainsaw at Hideouts	              find 20 Hidden Packages
Python delivered to Hideouts	      find 30 Hidden Packages
Flame-thrower appears at Hideouts     find 40 Hidden Packages
Laser Scope Sniper Rifle at Hideouts  find 50 Hidden Packages
Minigun at Hideouts	              find 60 Hidden Packages
Rocket Launcher at Hideouts	      find 70 Hidden Packages
Sea Sparrow at Vercetti Mansion	      find 80 Hidden Packages
Rhino tank at Military Base	      find 90 Hidden Packages
Hunter helicopter at Military Base    find 100 Hidden Packages

Vice City GTA hidden packages 1-17
Out in the water south of Vice City Ocean Beach on wooden platform.
Out in the water east of wooden platform on rocks.
Back of house on Ocean Beach with heliport by back door steps.
In underground packing lot near Colonel's yacht dock.
On steps of the light house.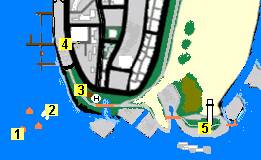 ---
6. Behind Ocean view research and development building.
7. Under the south bridge.
8. Across the street from Washington mall on roof top.
9. Across the street from Ken's office behind save point building.
10. In back of tall pink apartments by pool.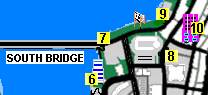 ---
11. On the corner of the roof, of the building attached to DBP security.
12. Next to bridge just north of Ken's place.
13. Inside south corner of the tall building across from bunch of tools.
14. Open rooms in NW corner of the building across from bunch of tools.
15. On roof top of blue and white building behind police station.
16. Upstairs inside police station in office.
17. On life guard stand on beach.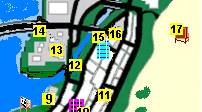 ---
TIP Hidden Package 16

Vice City police station.
As soon has you enter a restricted area in the station,
your wanted level will go to 2 stars.
So you don't get busted waiting for the helicopter to get up to take off speed,
park the helicopter across the street on the roof top with stairs.
After your escape find a Star to bring down your wanted level.


© FunwithyourPC Privacy policy